Tarmac Driveways
Offering new tarmac installations, repairs and resurfacing options.
CALL 01793 277257
Tarmac Driveway Specialists Across Swindon and Wiltshire
Get a new tarmac or asphalt driveway installed at your home in Swindon, Wiltshire by our professional team at Brunel Driveways. We offer a range of new tarmac installations, tarmac repairs and tarmac resurfacing options.
Our team can meet you and go through all the options available including driveway edging, custom tailored steps and combining tarmac with paving and concrete products and a choice of red or black colour that you might require on your driveway.
Brunel Driveways have the experience to provide hand and machine laid tarmac surfaces.
Whether you are restoring the appearance of your current tarmac driveway or laying an entirely new tarmac driveway, we can advise you with those key decisions.
All work undertaken by Brunel Driveways is done to the highest standards. All tarmac driveways we install are capable of handling all types of vehicular traffic.
The correct preparation is essential to achieving a great looking, long-lasting tarmac driveway that will not sink, dip or crack. A good driveway requires good drainage, this can be achieved by using mains drainage, soakaways, drainage creates or a specialist porous surface.
There's a wide range of tarmac and asphalt products available that we purchase from well known, long established suppliers. This guaranteed a long-lasting and hard wearing surface.

We are proud of our work and offer a 5-year guarantee on driveways, patios, landscaping and many other services.
Due to being in the Cotswolds, unlike our competitors, we offer a specialist service using hot tar and gravel to achieve a natural finish with durability and a country style effect.
Tarmac is a popular choice for driveways, tarmac paths, tarmac forecourts, tarmac carparks, tarmac private roads and tarmac school playgrounds.
Drop Kerbs – for your peace of mind, it's good to know that we are accredited by local councils and Street Works to lower and drop kerbs for easier access to your driveway.
Commercial – covering everything from footpath's, forecourts and playgrounds to specialist surfacing for runways and sport, Farm roads and estates. We can accommodate the full range of commercial surfacing work.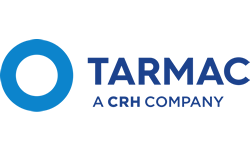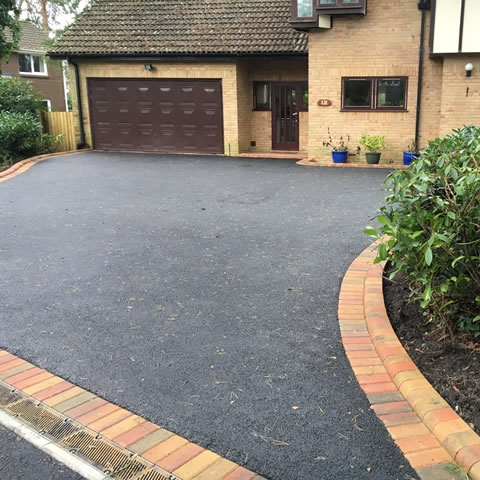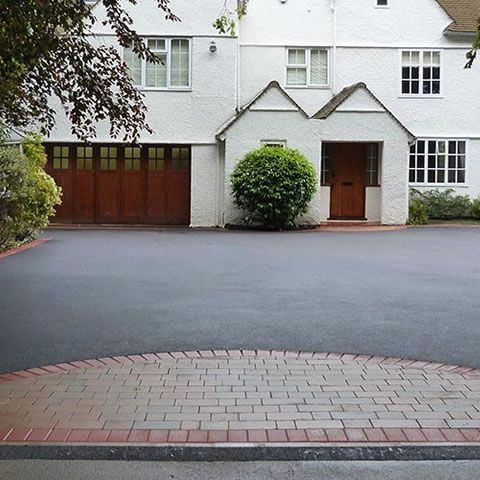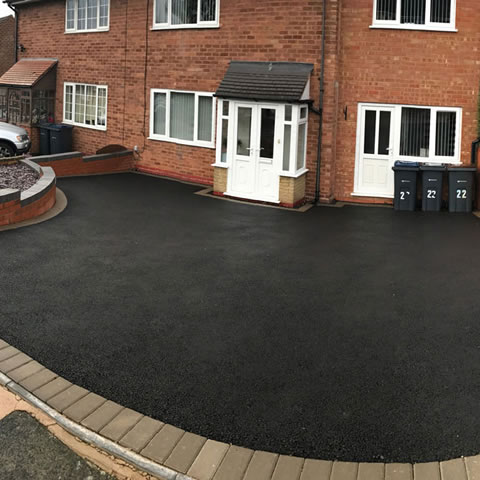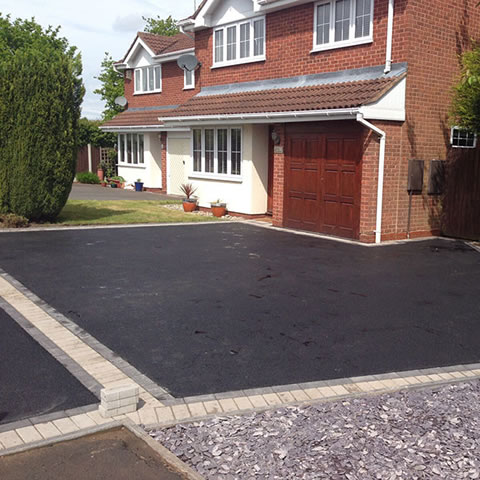 We complete all of our projects to a high standard, always providing value for money, ready to bring your amazing projects to life.
We do not use gimmicks or salesmen, we simply provide excellent workmanship and customer service to all our customers.

We are proud of our work and offer a 5-year guarantee on driveways, patios, landscaping and many other services.
We cover a wide area around Swindon, Wiltshire. Including the areas of Cirencester, Chippenham, Marlborough, Hungerford, Oxford, Newbury and Reading.